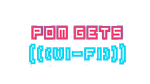 'Pom Gets Wi-Fi 'Wiki is a collaborative encyclopedia about the indie game created by Me Patra. The format of this wiki allows anyone to edit or create articles, so us Pom fans can work together to create a comprehensive encyclopedia about the beautiful story of an Internet-obsessed pomeranian and her quest to find Wi-Fi in Heaven! 
Wiki Status
Edit
We currently have 23 pages on this Wiki. More pages are eventually coming sooner!
Characters
Edit
Protagonists/Main
Edit
Other characters
Edit
Sherman
Papi
Ug
Dog
Dave pointer
Chi
Bernard
Hus
Malty
Sharpei
Corg
York
Crest
Puddle
Labra
Alma
Glish
Ad blocker interference detected!
Wikia is a free-to-use site that makes money from advertising. We have a modified experience for viewers using ad blockers

Wikia is not accessible if you've made further modifications. Remove the custom ad blocker rule(s) and the page will load as expected.