The Famicom was the Japanese counterpart of the NES (Nintendo Entertainment System). In Pom Gets Wi-Fi, Papi gives Pom a Famicom as an apology for not having any dog treats for Goldie. Pom ends up stacking the Famicom on the rock thing.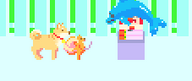 Papi mentioned that she owned a Famicom when she was still alive. Having a Famicom instead of a NES hints that she could've lived in Japan.
Goldie might have owned a Famicom as well, since she knew that it was flat and better for stacking.
Pom/Shibe apparently never thought about stacking the Famicom instead of a potted cactus.
Ad blocker interference detected!
Wikia is a free-to-use site that makes money from advertising. We have a modified experience for viewers using ad blockers

Wikia is not accessible if you've made further modifications. Remove the custom ad blocker rule(s) and the page will load as expected.