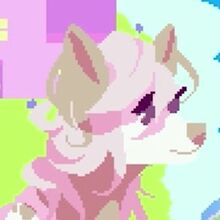 Crest is a Chinese Crested dog, your typical girly, sweet, and fun gal with Arachnophobia. She is very generous and because of of her warm, loving, and trusting personality she makes lots of friends all the time.
In part of the game, if you enter Crest and Puddle's house, there is a spider on the floor. If you kill the spider, Puddle will come in the house and award you with an Inflatable Dolphin, for killing the spider since Crest was too afraid.
Ad blocker interference detected!
Wikia is a free-to-use site that makes money from advertising. We have a modified experience for viewers using ad blockers

Wikia is not accessible if you've made further modifications. Remove the custom ad blocker rule(s) and the page will load as expected.